While green suspenders might not be the most popular suspender choice, we love the character that a pair of green suspenders can add to an outfit. Perfect against a crisp white shirt, nothing says fresh more than a pair of green suspenders.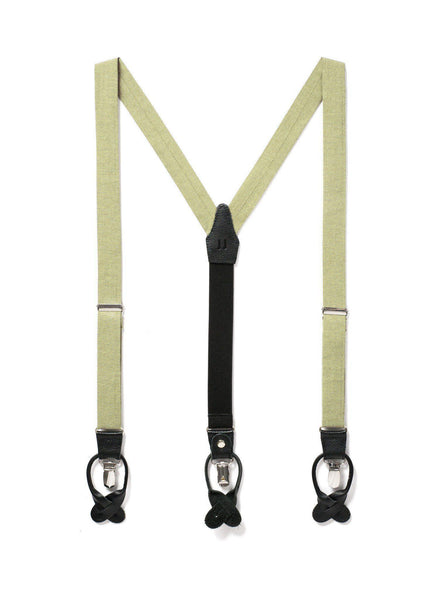 Egyptian Sands - Classic Olive Suspenders
$89
---
Giving a nod to the textured sands of Egypt, these olive tan suspenders will add...
Emerald Envy - Navy & Green Striped Suspenders
Sold Out
---
These striking navy and green striped suspenders are the perfect addition to any wardrobe, whether...
GREEN SUSPENDERS
One of our favorite ways to incorporate green suspenders into an outfit is for the groomsmen in a wedding. Unexpected and ideal for any nature lovers, green suspenders will always keep things from looking generic or standard. Also, keep in mind, with green suspenders, there's plenty of shades to play with, from emerald to olive green, there's a green suspender with your name on it.  
Looking for a more casual way to wear green suspenders? Lucky for you, our green suspenders come with both button and clip attachments. Simply wear the clips with your favorite pair of jeans, and you've got yourself a look that will keep people on their toes. 
If you're looking for more ideas on how you can incorporate green suspenders into your outfit, check out our green suspender style ideas here.
Suspenders for every occasion
Whether you're purchasing for a wedding, or are hoping to refresh your personal style, our suspenders for men are perfect for any occasion. Choose from skinny, leather, classic or formal styles to get started. Need help discovering which suspender style is right for you? Check out our style guide for inspiration.