Probably one of our favorite ways to add a vintage and rustic feel to an outfit, you're absolutely going to love our assortment of brown suspenders. Done in both trendy skinny styles and more classic styles, brown is one of our most versatile looks for both everyday wear and more formal events. In other words, you can't fail with some brown suspenders at your disposal.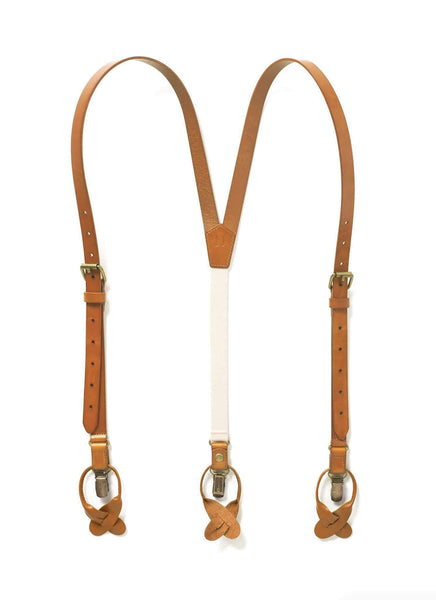 Sierra Nevada - Dark Tan Leather Suspenders
$79
---
These dark tan leather suspenders are perhaps our favorites for recreating a laid-back, put-together look...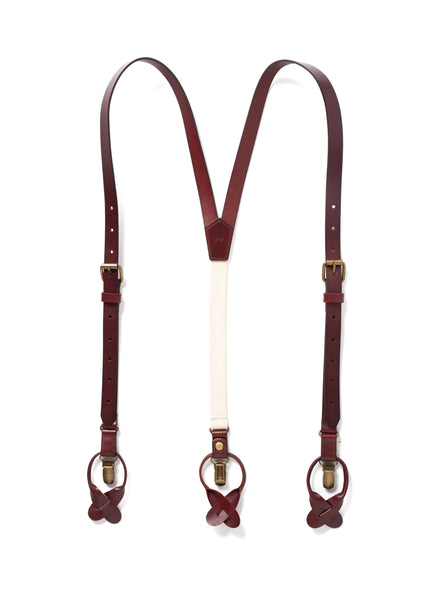 Oxblood - Brown Leather Suspenders
$79
---
These oxblood-brown leather suspenders are the ideal accessory for a relaxed, contemporary wardrobe. They feature...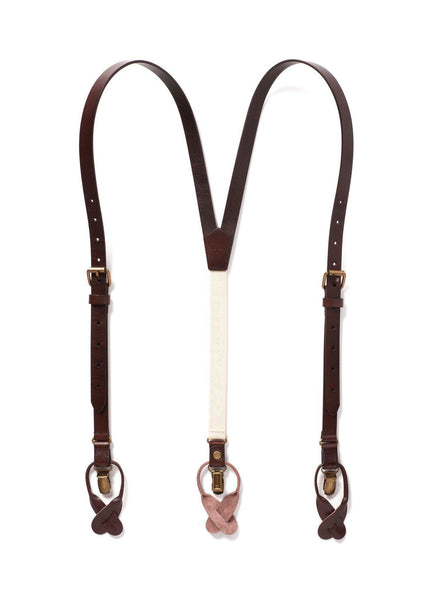 Chestnut Java - Brown Leather Suspenders
$79
---
These chestnut-brown leather suspenders are one of our favorite pairs for creating a relaxed, put-together...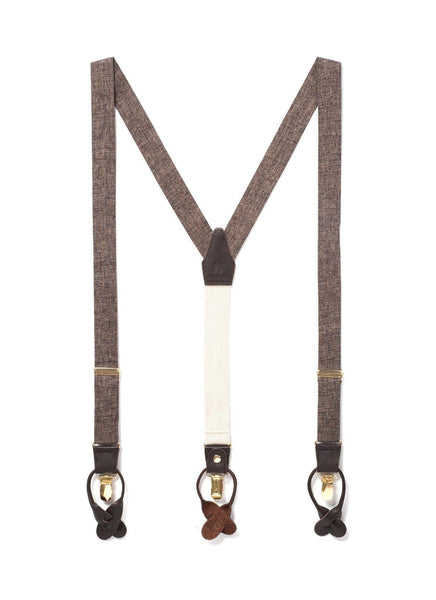 Autumn Harvest - Classic Brown Suspenders
$89
---
We've taken inspiration from autumn and its rich hues with these suspenders. Woven, cocoa-hued straps...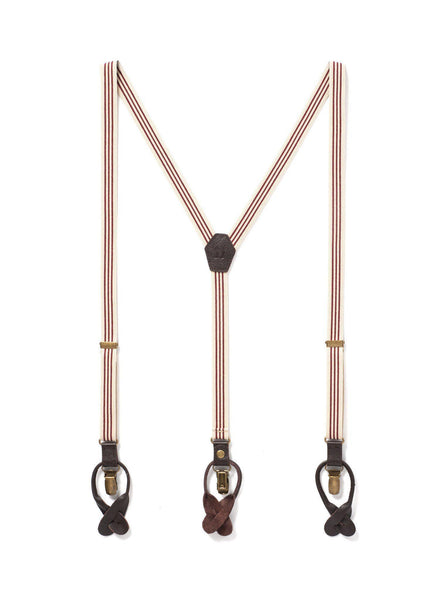 Sand and Fire - Burgundy & Khaki Suspenders
$59
---
These striking burgundy and khaki suspenders feature a soft khaki stripe flanked by fine burgundy...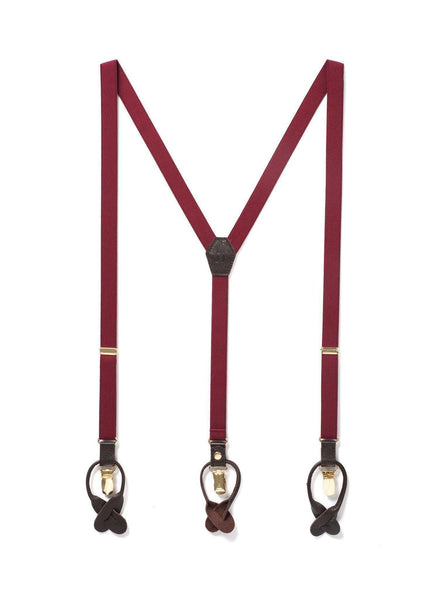 Winter Berry - Skinny Burgundy Suspenders
$59
---
Featuring a bold burgundy hue, these suspenders are great for adding an element of surprise...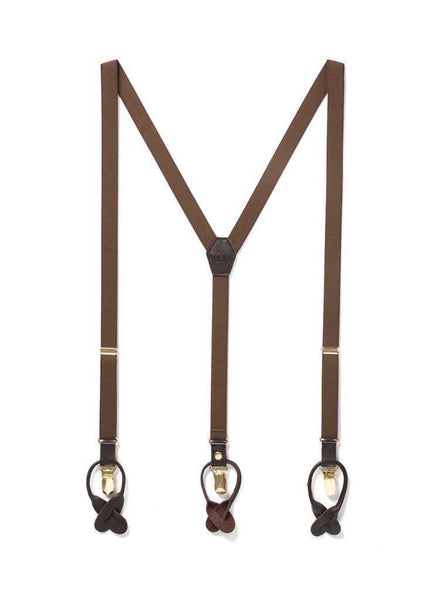 Cinnamon Stick - Skinny Brown Suspenders
Sold Out
---
These skinny brown suspenders are timeless thanks to their warm, versatile hue. They feature clip attachments...
BROWN & TAN SUSPENDERS
Dark tan, oxblood, and your classic brown suspenders, we've got it all here for you. Paired with a fresh white dress shirt, a grey suit, or even navy, brown suspenders are neutral enough to match with anything. 
The one caveat? With brown suspenders, because they're so versatile, try to keep the feel of your look cohesive. For example, if you're going for a more quirky and vintage style, you might want to incorporate pops of pink, a bow tie, and a fedora hat. On the other hand, if you want something more rustic and masculine, you might want leather suspenders, no jacket, and dessert style boots. Whatever the case, stay true to your personal style, and we've got a feeling you'll be looking great in your new brown suspenders.
Suspenders for every occasion
Whether you're purchasing for a wedding, or are hoping to refresh your personal style, our suspenders for men are perfect for any occasion. Choose from skinny, leather, classic or formal styles to get started. Need help discovering which suspender style is right for you? Check out our style guide for inspiration.