You're bold and want to rock a pair of suspenders that make a statement? Well, lucky for you, red suspenders are guaranteed to do the trick. Eye-popping, daring, and wide-ranging, never say no to a great pair of red suspenders.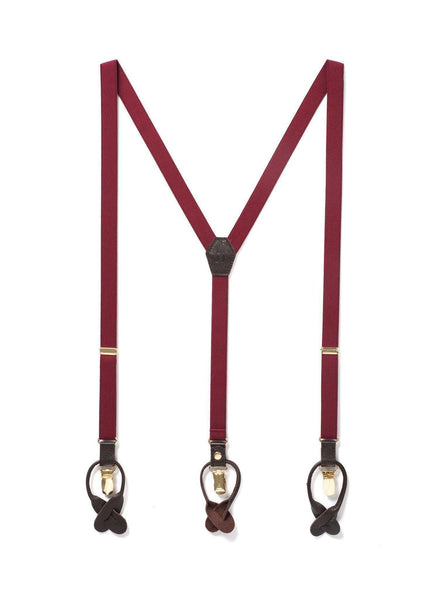 Winter Berry - Skinny Burgundy Suspenders
$59
---
Featuring a bold burgundy hue, these suspenders are great for adding an element of surprise...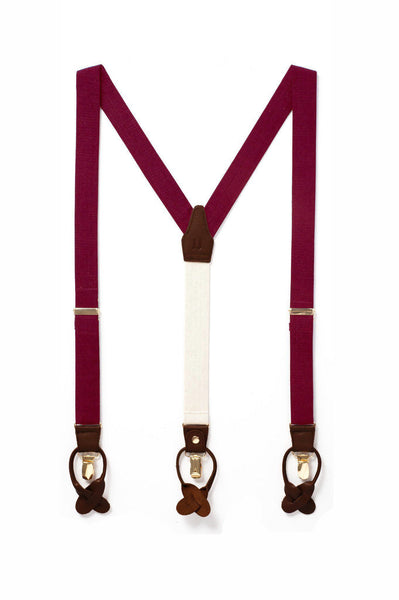 Fine Wine - Classic Burgundy Suspenders
$89
---
Created in a rich burgundy hue, these elegant suspenders are the ideal companions to a dark...
Cherry Bomb - Navy & Red Striped Suspenders
$149
---
Featuring a bold red stripe, these elegant suspenders are both preppy and playful. We love...
Berry Dramatic - Formal Burgundy Suspenders
Sold Out
---
These are the ideal suspenders for adding an element of surprise to your ensemble. Featuring...
Crimson Sun - Formal Red Suspenders
Sold Out
---
These formal red suspenders are a nice addition to your accessory collection. Their black leather detailing...
Very Cherry - Spotted Red & White Suspenders
Sold Out
---
These bright cherry-red suspenders with little white polka dots are a quirky addition to more...
Ink Blot - Spotted Red & Navy Suspenders
Sold Out
---
These bright red suspenders feature a playful twist in the form of little navy blue...
RED & BURGUNDY SUSPENDERS
When you think of red suspenders, you might think of suspenders done in cherry red, but keep in mind, ours range from the familiar cherry red all the way to more subdue shades of burgundy and maroon. 
Perfect for groomsmen in a fall wedding, red and burgundy suspenders give the perfect pop of color to an otherwise standard suit. Plus hey, with our polka dot red suspenders and striped red suspenders, we can easily see these options being paired with denim using our convenient clip attachments for those with a more playful sense of style. Don't you agree?  
If you're looking for more ideas on how you can incorporate red suspenders into your outfit, check out our red suspender style ideas here.
Suspenders for every occasion
Whether you're purchasing for a wedding, or are hoping to refresh your personal style, our suspenders for men are perfect for any occasion. Choose from skinny, leather, classic or formal styles to get started. Need help discovering which suspender style is right for you? Check out our style guide for inspiration.