Perfect for creating a relaxed, put-together look for casual and special occasions. Our leather suspenders are created using real leather with meticulous detailing for a polished look.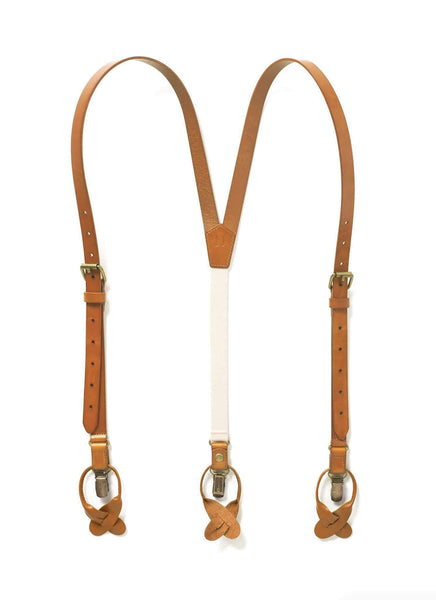 Sierra Nevada - Dark Tan Leather Suspenders
$79
---
These dark tan leather suspenders are perhaps our favorites for recreating a laid-back, put-together look...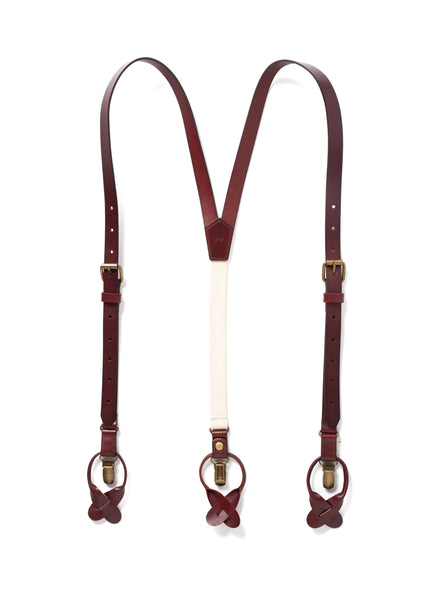 Oxblood - Brown Leather Suspenders
$79
---
These oxblood-brown leather suspenders are the ideal accessory for a relaxed, contemporary wardrobe. They feature...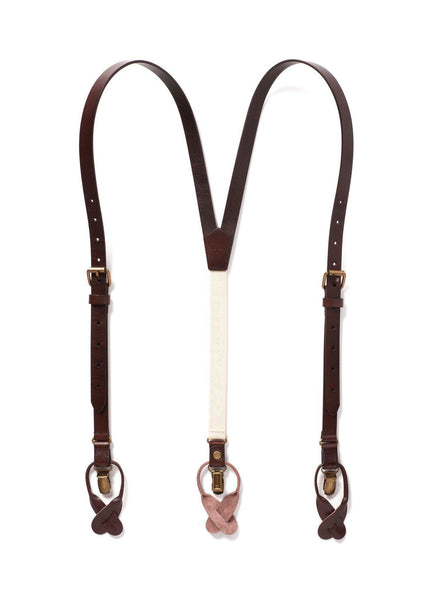 Chestnut Java - Brown Leather Suspenders
$79
---
These chestnut-brown leather suspenders are one of our favorite pairs for creating a relaxed, put-together...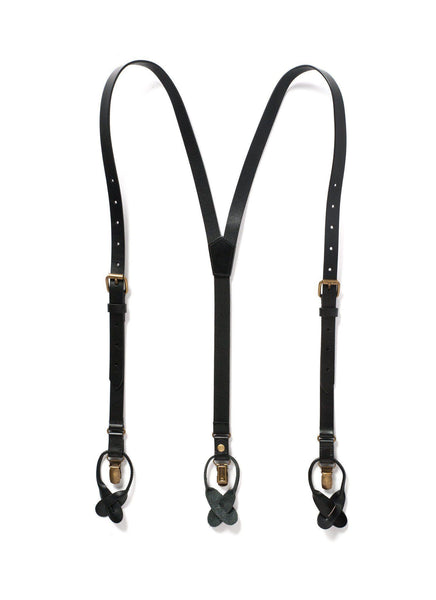 Smoke - Black Leather Suspenders
Sold Out
---
Rugged in black leather, these striking suspenders are the ideal accessory for a casual, put-together...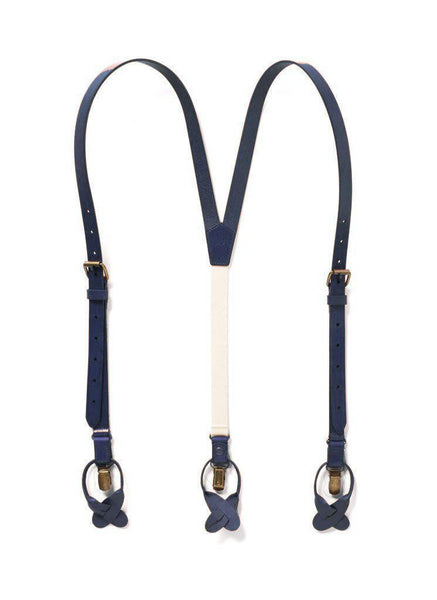 Midnight - Dark Blue Leather Suspenders
$99
---
These midnight-blue leather suspenders are youthful and trendy without being fussy. Fashioned in dark blue...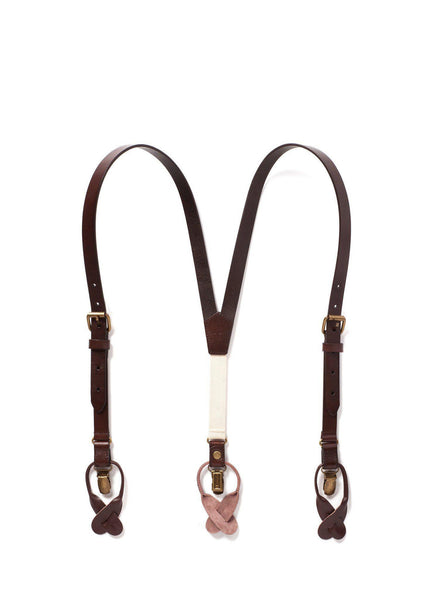 Chestnut Java (Kids) - Brown Leather Suspenders
$59
---
These classic brown leather suspenders will ensure that the little guy in your life arrives...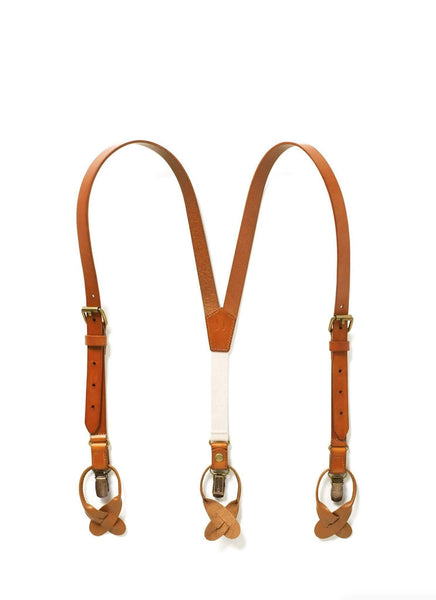 Sierra Nevada (Kids) - Tan Leather Suspenders
$59
---
These classic brown leather suspenders will ensure that the little guy in your life arrives...
 

Quality leather suspenders

Made from real leather, our leather suspenders are high-quality with hand-stitched detailing for a polished look. With vintage metal buckles and a classic Y-back, our leather suspenders add a touch of old-fashioned charm to a sleek and modern look.

A casual look

Leather suspenders are great to pair with casual jeans, for a laid-back, but fashion-forward look. They're also popular for groomsmen in weddings to add some vintage charm to the wedding party.

Just the right size

JJ's leather suspenders fit men sized 5'6" to 6'4" with buckles on the straps for easy adjustments. Each pair of suspenders also has an elastic strap on the back for a perfect fit and easy maneuvering, giving leather suspenders the flexibility you desire. Shopping for kids? We even have leather suspenders that are a great fit for kids 30" to 60" as well.

 

Easy to wear

JJ's Suspenders are all made easy to wear with both clip and button attachments. Clip attachments make it simple to pair your leather suspenders with any pair of pants, with no sewing required. Interested in looking a bit more formal? Each pair of suspenders comes with a sewing kit so you can easily make any pair of pants suspender-ready for button attachments, for an even more polished look.
Your complete guide to leather suspenders
With the growing popularity of leather suspenders, we naturally receive a lot of good questions: How do you style leather suspenders? What events are most appropriate for leather suspenders? Are leather suspenders too casual for a wedding?
We'll start at the beginning…
Firstly, why have leather suspenders become so popular?
Historically, suspenders used to be seen as less of a style item and more as a functional garment. But in the '80s, we started to see suspenders reemerge, and the materials used to design suspenders expanded as a result of men taking more of an interest in style. No longer did all men want the look of traditional suspenders, and some wanted something a little more masculine and rugged, like the leather suspender.
More recently, here's what we're seeing influence the popularity of leather suspenders today: 
1.
Old school trends making a comeback:
While they'll always be a place for contemporary style, vintage-inspired old-school trends are making a comeback in our modern age (i.e. tweed coasts, Oxford shoes, conductor hats, trench coats, suspenders, etc.). This reemerging popularity for suspenders in general has drawn more people's attention to the style options that suspenders provide, including leather. 
2.
Vintage weddings:
Weddings have a big role to play in the popularity of leather suspenders that play off the vintage feel. This growing trend largely has to do with the trends seen in the wedding industry. In particular, the rising popularity of vintage-inspired or rustic weddings. Think lace, mason jars, reclaimed wood, wildflowers, and refurbished barns as venues. In these scenarios, men want their groomsmen in leather suspender to help elevate the vintage aesthetic of the wedding. 
3.
Men's style trends:
More and more men want to express themselves through style. Just take a look at brands like Beardbrand, where style is clearly at the forefront of their customers' mind. Leather suspenders fit perfectly into the aesthetic of their more fashion-forward man. 
Bottom line: More men have become interested in adding leather suspenders to their wardrobe, and really, with their versatility, wearability, and style edge, we can't blame them. 
When can you wear leather suspenders?
The great thing about leather suspenders is how versatile they are—you can wear them anytime you wish. They work on groomsmen, paired with t-shirts, styled with classic dress shirts, and even worn with gingham button-downs for a preppy look. 
While typically suspenders are best suited for special occasions, when we add leather into the mix, the more formal look of suspenders switches from traditional to either edgy or vintage-inspired (more on this below).
Still though, if wearing leather suspenders to special events like weddings, New Year's Eve parties, and cocktail gatherings, you'll want to ensure you're well-versed on dress code. For instance, if you're attending a black-tie wedding, a leather suspender is not appropriate. Or, if the cocktail party is a gathering of your co-workers and you work in a traditional office environment, again, leather suspenders are not your best bet.  
The general rule of thumb is this: If the event is more playful with a party atmosphere, a leather suspender is a suitable option. If the event is more formal and serious, stick with a classic suspender. 
For leather suspenders worn as an everyday option, we suggest keeping the rest of your look put-together and rooted in style. The outfit doesn't have to be necessarily formal, but it should have an element of sophistication to it. We'll provide some style tips below. 
THE LOOKS
Leather suspenders for weddings
Leather suspenders are a great option for groomsmen and wedding guests who want to retain their sense of style. For this aesthetic, the leather suspender is the ideal match when the groom & groomsmen fit in with the rest of the wedding's rustic/vintage theme. 
Image via Wedding Wire 
Image via The Knot 
Match your leather suspenders with some fun bowties. Or with simple chambray shirts and casual trousers for a bit of country flair.
Whatever style you prefer, you can't go wrong with leather suspenders at a rustic or vintage-inspired wedding.
Leather suspenders for a formal look
For formal looks like at work, or at cocktail parties, leather suspenders with a suit are generally not recommended. Because leather suspenders are such a bold statement-making style, when paired with something traditional like a suit, the aesthetic feels slightly off. 
Of course you can always wear your leather suspenders with dress pants and a dress shirt for an elevated look, but without the addition of a traditional suit jacket, as shown below. 
Despite the fact that leather suspenders aren't traditionally worn with a suit, we always encourage men to play with style and test out unconventional pairings. And so, if you're the risk-taker who wants to style his leather suspenders with a suit, we want to give you some tips to help increase your chances of success.  
Here are some additional tips we would recommend for styling a suit with leather suspenders: 
For an edgier look, style your black leather suspenders with a skinny tie

Keep your black suit cohesive with black leather dress shoes

For a rustic look, style your brown suspenders without a tie, or possibly with a bow tie. The bow tie will end up looking more vintage and less rustic.

Whether you go with an edgy or rustic style, you should always match your shoes and belt 

As mentioned, always consider the venue when styling your leather suspenders with a suit. For example, if you're attending a wedding, we would recommend a suit jacket. You can always remove the jacket at the end of the night. 

Black, grey, and navy suits tend to be the safest options for suiting. For a classic or edgy look, go with the traditional black. For a more preppy look, you can try navy. For that rustic look, you likely won't wear a traditional suit, and will likely wear a neutral dress shirt and tan or brown pants. 

If you're confused about whether you should wear button or clips with your leather suspenders, we suggest buttons for any formal events and clips for less formal events. Having said that, either will work for groomsmen if you're going for that rustic aesthetic. 

For a country-style, try Western-inspired clips.  
NOTE: If you decide to go with clips for your leather suspenders, keep in mind that you'll require very study clips since leather doesn't stretch. At JJ Suspenders all of our leather suspenders have elastic backs to ensure the suspender stretches as you do to prevent snapping and improve comfort. Also, don't forget that the button suspender will have a more rustic style about it, as shown below: 
Leather suspenders for an everyday look
When it comes to styling your leather suspenders for an everyday look, you'll want to keep the rest of your outfit relatively stylish and on-trend. Beyond that, there aren't any particular rules you need to follow for your everyday look. In fact, we encourage you to have fun with your leather suspenders by highlighting your own personal style. 
Having said that, we know inspiration is always useful, so let's touch on three ways you can style leather suspenders for an everyday look. Specifically, we're going to look at styling leather suspenders with denim. While you can certainly get an everyday look with other pant styles, we're specifically going to touch on denim since this is a pant style that most men already have in their wardrobes.
If you do wish to wear your leather suspenders with denim, you may have to sew buttons onto your denim. Most denim styles aren't designed with suspenders in mind, meaning they won't already have the buttonholes that you would find in a suit. But on the positive side, if you do have to sew buttons onto your pants, all JJ Suspenders come with buttons, a sewing kit, and instructions so you can easily add them on. Of course, if sewing feels like too much of a hassle, they come with clip attachments as well, so you can easily wear leather suspenders without having to do any sewing.   
Denim, leather suspenders, and a dress shirt (sophisticated style)
The addition of leather suspenders easily adds an element of style to your classic button-down shirt and denim. For this more sophisticated and pulled together look we recommend going with a form-fitting tailored dress shirt, dark denim, and dress shoes. If you want to add an edge, switch out the dress shoe for a combat boot or desert boot. We also recommend matching the color of your shoes to your suspenders. This will keep things cohesive. 
In terms of color, opt for the brown leather suspenders if you want that rustic look, black for something sleeker, or switch it up with a bold oxblood if you crave something a little more striking. 
Cuffed denim, leather suspenders, and a collared tee (preppy style)
While we've mostly been focusing on the edgy and vintage-inspired style that leather suspenders can help achieve, we also want to draw attention to the preppy style, as shown below: 
What gives this look its preppy feel is the cuffed denim with the loafers. Throw on a bow tie, and this look would be bursting with preppy style. Our only recommendation here would be to keep your shoes and leather suspenders the same color. Other than that, play with patterned shirts, and don't be afraid to embrace color when you're going with a preppy look. 
Denim, leather suspenders, and a t-shirt (cool, rugged style)
Yes, you can absolutely wear your leather suspenders with a t-shirt and denim. 
While this will be the most casual of the potential options, it's also probably the one that has the most impact because it's such an unconventional pairing. You can opt for a simple solid colored t-shirt and standard denim for an easy-to-wear look. Try out black denim for a more modern and sleek look, or pair with your favorite distressed denim for a more rugged look. You can also rock a fresh white tee with black leather for a very sophisticated, yet rugged feel. 
Also, don't be afraid to pair your denim and leather suspenders with a graphic tee. This pairing ends up giving the look a more cool, rock 'n roll inspired vibe. For this look, try Converse sneakers, or elevate the look with a trendy dessert boot.
There's really no wrong way to go here when styling your leather suspender. It's just about embracing your own personal style. 
Taking care of your leather suspenders 
Leather suspenders don't require too much maintenance. 
They're easy to wipe down if something spills on them. Simply use a clean, dry cloth to wipe off any spills. It's difficult to stain leather suspenders, but if this does happen, try using some saddle soap, but under no circumstances should your leather suspenders ever go in the washing machine or dryer. 
Be aware that there is some possibility of the color from your leather suspenders bleeding onto your clothing. This only happens if you are excessively sweating. If you do find yourself in this predicament, you should be able to bring your shirt to the dry cleaner and they'll be able to remove the stain. 
If you would like to read more on maintaining your suspenders, we have a full article that goes over all the details of maintaining various styles of suspenders, including leather. 
To sum up
Bottom line, when it comes to wearing leather suspenders, it's difficult to go wrong.
While there are some "rules" you might want to keep in mind, like not wearing leather suspenders to a black-tie wedding, for the most part, when, where, and how you wear your leather suspenders is entirely dependent on your personal style and taste. 
When in doubt about wearing leather suspenders, keep things simple, style your outfit in either the edgy or rustic-inspired style discussed above.
Suspenders for every occasion
Whether you're purchasing for a wedding, or are hoping to refresh your personal style, our suspenders for men are perfect for any occasion. Choose from skinny, leather, classic or formal styles to get started. Need help discovering which suspender style is right for you? Check out our style guide for inspiration.