Scholar

$59
Skinny Navy Blue Pin Striped Suspenders
These skinny navy blue suspenders are the perfect example of a classic style that's both versatile and unique. If you're looking for an accessory that's just a little bit different, then these are the suspenders for you. They are fashioned in a classic navy blue hue with coffee brown leather detailing, and can be clipped on for easy wear. These subdued suspenders can easily transition from a formal to casual setting.
JJ suspenders are designed for heights between 5'2 and 6'2. If they don't fit perfectly - return them within 15 days for a full refund.
Features & Sizing
Designed for heights between 5'2 and 6'2. If they don't fit perfectly—return them within 30 days for a full refund.
Includes interchangeable clip and button attachments (with sewing kit) so you can wear them with any pants
Suspender width = .75" wide elastic
Classic Y-back design, authentic leather detailing
Includes burlap bag for easy storage
Free Shipping & Returns
We offer free shipping on all orders. If you aren't 100% happy, you can send them back for a full refund. We also have international and express shipping options.
Read more about shipping >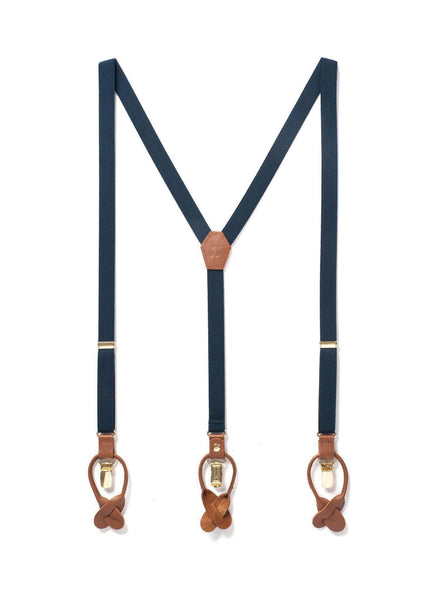 Navy Baby - Skinny Navy Suspenders
$59
---
These skinny navy suspenders are perfect for a put-together look. With their versatile hue and luxe...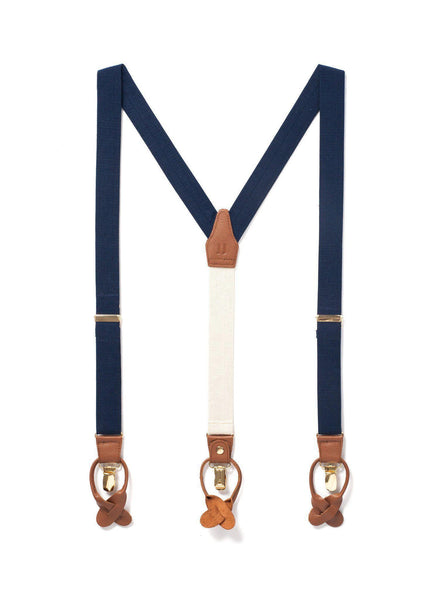 Navy Tides - Classic Navy Suspenders
$89
---
Timeless, versatile and dapper—that's how we describe these suspenders. Boasting a navy, cream, caramel and...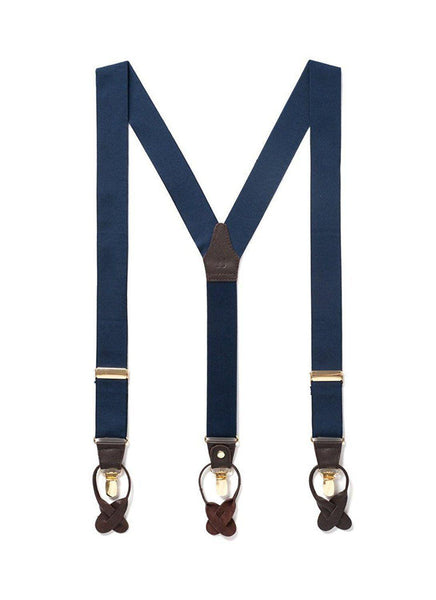 Royal Sapphire - Formal Navy Suspenders
$89
---
These formal navy suspenders are the epitome of old-school elegance and are perfect for a preppy,...