Sapphire Sphere
Sold Out
White & Blue Polka Dot Suspenders
These bold polka-dot suspenders are a playful addition to a more somber outfit. Featuring mid-width straps and elegantly crafted black leather detailing, they're great for adding a pop of color and a bit of fun to a business suit. We love these suspenders paired with a navy or grey suit or blazer and matching handkerchief.
These luxe suspenders include elegant details such as hand-stitched leather and nickel plated hardware. A century-old mill produces the warp and weft that allows us to create unique, original designs that are vibrant and durable.
JJ suspenders are designed for heights between 5'2 and 6'2. If they don't fit perfectly - return them within 15 days for a full refund.
Features & Sizing
One Size Fits All
Dual Clip/Button Attachments
Designed with back elastic strap for extra comfort and versatility
1.5" wide straps
Classic Y-back Design with Authentic Leather Detailing
Free Shipping & Returns
We offer free shipping on all orders. If you aren't 100% happy, you can send them back for a full refund. We also have international and express shipping options.
Read more about shipping >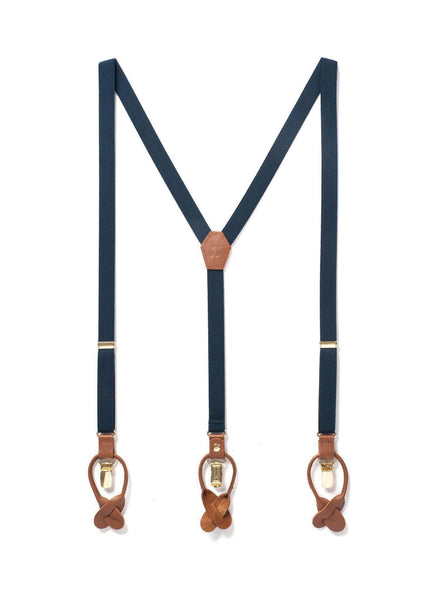 Navy Baby - Skinny Navy Suspenders
$59
---
These skinny navy suspenders are perfect for a put-together look. With their versatile hue and luxe...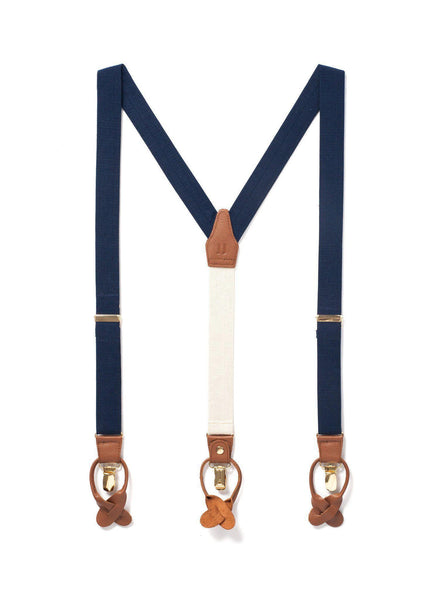 Navy Tides - Classic Navy Suspenders
$89
---
Timeless, versatile and dapper—that's how we describe these suspenders. Boasting a navy, cream, caramel and...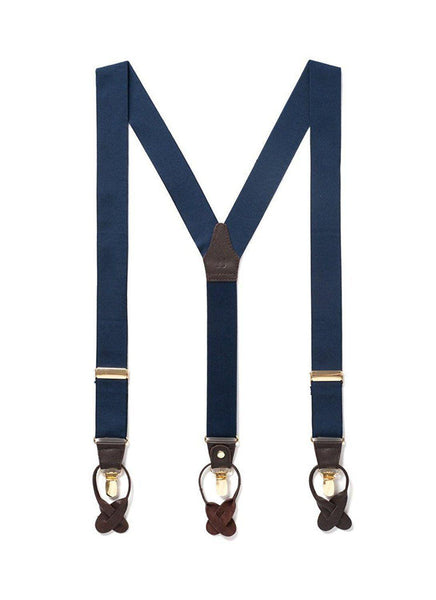 Royal Sapphire - Formal Navy Suspenders
$89
---
These formal navy suspenders are the epitome of old-school elegance and are perfect for a preppy,...